[av_three_fifth first min_height=" vertical_alignment=" space=" custom_margin=" margin='0px' link=" linktarget=" link_hover=" padding='0px' border=" border_color=" radius='0px' background='bg_color' background_color=" background_gradient_color1=" background_gradient_color2=" background_gradient_direction='vertical' src=" background_position='top left' background_repeat='no-repeat' animation=" mobile_breaking=" mobile_display=" av_uid='av-6cqi'] [av_textblock size=" font_color=" color=" av-medium-font-size=" av-small-font-size=" av-mini-font-size=" av_uid='av-jo1ospnx' admin_preview_bg="]
Zipoli – Course of Formation to Music and Spirituality. Directed by Fr. Eraldo Cacchione, Sj, and Fr. Fausto Gianfreda, SJ.  
Zipoli is a course dedicated to young people of age 18-25. Zipoli aims at educating people to listen to the Spirit within musical activity, by living out Christian liturgy, reflecting theologically and philosophically, dialoguing with other religions and meeting professional musicians. Zipoli events take in place in places of extraordinary beauty in the center of Palermo.
Admissions on or before March 31, 2019, by email: zipolisummer2019@gmail.com 
Zipoli 2019: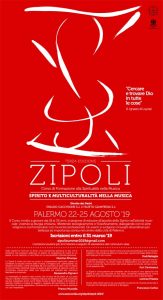 Zipoli 2018:
Zipoli 2017:

[/av_textblock] [/av_three_fifth][av_two_fifth min_height=" vertical_alignment=" space=" custom_margin=" margin='0px' link=" linktarget=" link_hover=" padding='0px' border=" border_color=" radius='0px' background='bg_color' background_color=" background_gradient_color1=" background_gradient_color2=" background_gradient_direction='vertical' src=" background_position='top left' background_repeat='no-repeat' animation=" mobile_breaking=" mobile_display=" av_uid='av-3tlo'] [av_textblock size=" font_color=" color=" av-medium-font-size=" av-small-font-size=" av-mini-font-size=" av_uid='av-4076′ admin_preview_bg="] ARTISTS WHO PARTICIPATED IN ZIPOLI:
Trizzidonna
[/av_textblock] [/av_two_fifth] [av_horizontal_gallery ids='293,287,281,270,238,237,224,228,227,210,203,185,170,166,410,409,408,407,406,405,404,403,402,401,400,399,398,397,396,395,394,393,391,390,389,388′ height='25' size='large' links='active' lightbox_text=" link_dest=" gap='large' active='enlarge' initial=" control_layout='av-control-default' id=" av_uid='av-jo1i8tgy'][/av_horizontal_gallery]